FabricAir® Trevira CS
ALL-IN-ONE Optionally, FabricAir® Trevira can be supplied with All-in-One support hoops, which keep the duct open permanently.

ZIPPERS
The sections are assembled with heavy-duty industrial zippers, discretely hidden under an extra seam.

TAG NUMBERS
Each duct section is labeled with a tag number, which indicates the order of assembly. Furthermore, it contains an id-number, which makes the tracking easier




SAFE MOUNTING
Fabric ducts connect onto sheet metal systems secured with a pinch-down duct belt.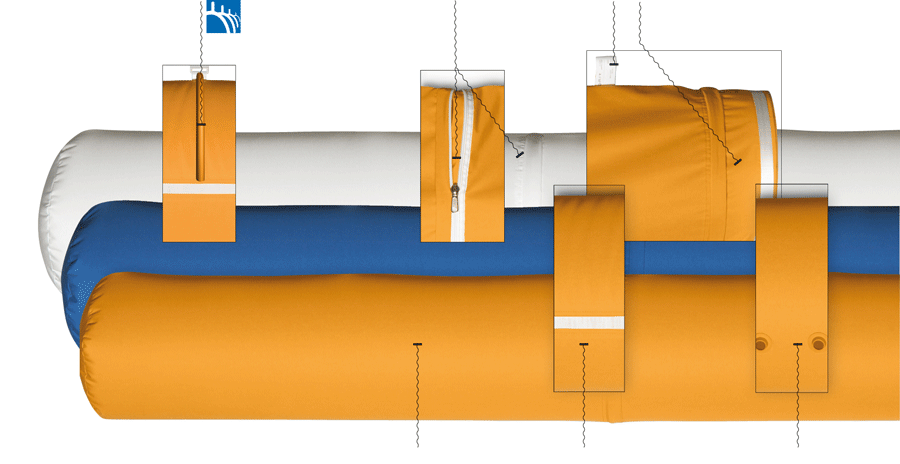 About FabricAir® Trevira

FabricAir® Trevira is a permeable fabric. It is suitable in places where there is a risk of bacteria growth or condensation, such as the food industry or indoor pools.
FabricAir® Trevira is supplied with a 10 year warranty and all variants are Oeko-Tex certified. All suspension types are available, including All-in-One, which always keeps the duct stretched out even when the air is removed from the system.


FabricAir® Trevira is machine washable and retains its dimensions after washing (max. 0.5% shrinkage). The permeability is uniform (max. 5% variation). The fabric is supplied in six standard colors and can be dyed with special colors. FabricAir® Trevira CS 150 is supplied with a specially developed antimicrobial treatment, which is especially suitable for areas with strict requirements for hygiene.
Properties

---

---

---


Basic
CS
100
CS
150
PROPERTIES SPECIFIC TO EACH FABRIC

---

---

---

Flame Retardancy Flame retardant according to a number of standards.
UL classified product according to the UL 723 standard.
Permeable Fabric FabricAir® Trevira are permeable fabrics. The duct gently breathes the conditioned air through the full permeable fabric surface ensuring a gentle exit velocity. This avoid condensation.
No Condensation Full duct surface air leakage prevents condensation settling on duct even during extended cooling temperature differences in high humidity areas. Condensation is common in metal-based air ventilation systems but does not form on permeable fabrics.
Anti Microbial Treated with an active antimicrobial agent. So, in addition to not providing places where microbes can breed, it also kills microorganisms.
5
year
10
year
10
year
Warranty Because of FabricAir® Trevira exceptional strength, we are able to give it the best warranty in the industry – 5 and 10 years non-pro rated.
Lowest Shrinkage The fabric retains its shape after washing having a maximum shrinkage of just 0.5%. This is the lowest on the market.
Fully Washable Fully washable in a washing machine. This ensures top class hygiene and IAQ improvement.
Round duct profile available
Half Round duct profile available (D-shape)
Quarter Round duct profile available



Rectangular duct profile available
Circle section duct profile available
FabFlow™ Air exits gently through duct surface.
MeshFlow™ Air exits at a medium velocity from the linear vents.
NozzFlow™ Air exits at high velocity from the air directional nozzles.
STANDARD COLORS
AVAILABLE
Standard Color Scheme Combination
ACCESSORY
COLORS

Accessory colors
used when
combined with a
standard fabric
color

| | |
| --- | --- |
| | Nozzles |

| | |
| --- | --- |
| | Sliders |

| | |
| --- | --- |
| | Hooks |

| | |
| --- | --- |
| | Mesh |


The color reproductions shown here are only intended as a guide, as it is impossible to reproduce the exact colors in print. Please call FabricAir if you require an exact color sample.